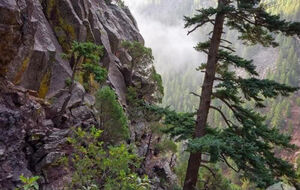 The Canyon is one of the original 12 areas created for characters to explore, and remains a popular place for indivduals to interact. It also provides an awesome view of of Sparkling Creek Valley, with its lofty vantage point in the northwestern corner of the Valley.
"The southern edges of the Canyon are part of the Croal Mountain Range, while the northern cliffs, slightly lower in stature are a part of the gentle-sloped Ochotona Mountains. The Canyon itself was formed by Requiems River, which runs through the center of it."
(coming soon)
Ad blocker interference detected!
Wikia is a free-to-use site that makes money from advertising. We have a modified experience for viewers using ad blockers

Wikia is not accessible if you've made further modifications. Remove the custom ad blocker rule(s) and the page will load as expected.