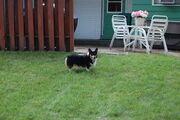 After entering Sparkling Creek Valley as a stray puppy in 2007, Scout has spent time with humans as he grew but never kept an owner, instead wandering ranches, alleys, and other human lands. He has sired many offspring who are dispersed through the Valley. In 2010 he was taken in by Shasta Wild and Adrian Volkov and is currently a herding and guard dog at the Atroe City Animal Rescue Association.
Scout, though now an adult, has retained the playfulness that is a characteristic of his breed, the Pembroke Welsh Corgi. He would rather be a diplomat toward enemies of his home or owners, preferring not to engage in battles. He knows he is dwarfed by most predators that may come around and that he wouldn't survive a fight. Instead, he serves as a sort of alarm system rather than a security system for ACARA.
(coming soon)
Offspring
Edit
Ad blocker interference detected!
Wikia is a free-to-use site that makes money from advertising. We have a modified experience for viewers using ad blockers

Wikia is not accessible if you've made further modifications. Remove the custom ad blocker rule(s) and the page will load as expected.